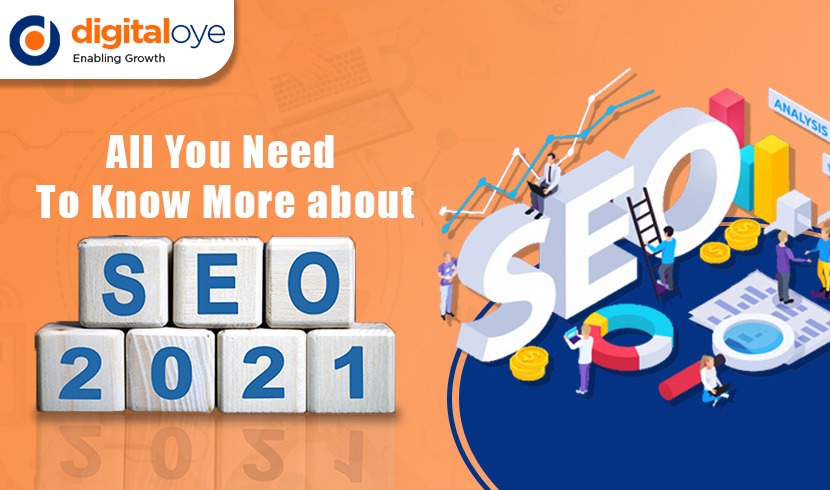 SEO helps to make your website visible on the internet through organic searches. You get more visitors, and resultantly, increase the chances of earning more profits. It is a challenging task to remain competitive in a continuously evolving environment of creating and publishing fresh content. You have to think of newer strategies and implement them with innovations to make your content more searchable.
Preparing for the near future
2021 is touted as a year that would witness several advancements on the SEO front. Hence, you should update your knowledge and accordingly build content to remain more relevant in the market. Here are some very specific and important trends in SEO you should focus on.
A larger role of AI in SEO
AI or Artificial Intelligence is taking over the world. Various applications in different sectors are now gradually implementing AI to optimize their operations, and improve efficiency. AI would be the backbone to decide the dynamics of how users consume online content.
User-experience is definitely one of the principal factors that AI considers while ranking a web page. Hence, in 2021, you have to focus more on enhancing the overall user experience of your website.

Voice Search will have a greater impact on Search Queries
The voice search technology is here to stay, and you can't undermine it. People would shift to voice searches in order to find content on web, as suggested by Best SEO Company in Delhi. Hence, you would require a fresh approach to determine keywords that are compatible with voice search queries.
You have to implement a process to enlist smooth, natural-sounding everyday phrases. Also, keep in mind that several voice searches include abbreviations. Creating content accounting for all these factors is hugely important in 2021.
More mobile-friendliness
Mobile-first indexing of Google has already been rolled out, back in 2019. So, this is not quite a new thing in the circuit. It means Google would give preferences to mobile versions of your website, and allot a rank to it after checking out all the relevant parameters. In coming years, people would use mobiles more, and access sites through mobile phones.
Evidently, it is extremely crucial to build a site that has a high degree of 'mobile usability'. It signals Google to easily crawl through the content of your web pages, and give it importance in SERPs.
Complying with the EAT Principle of Google
You website content, on any web page, must mandatorily comply with the EAT principle guidelines as laid by Google. In EAT, E stands for Expertise, A stands for Authenticity, and T stands for Trustworthiness. Digitaloye says that the EAT Principle ensures the visitors that they would be able to extract some concrete value from your website's content. It is extremely relevant in niches such as YMYL – 'Your Money Your Life'.

You have to constantly respect the user intent, and create content in accordance to that. Moreover, when you support your claims with some solid statistics from reliable sources, your website is liked more by Google.
Focusing on Long-form Content
Many of you might have already filled your blogs and commercial sites with short-form contents, as they take less time and les research to be built. But, in 2021, the larger portion of cake would go to Long-form content along with effective content marketing as well. You need to create lengthier, pertinent, well-research content for your audience. These types of content receive more backlinks, gradually increasing the domain authority of your website.
A recent report says that the content should be around 3000 words. They receive more traffic. But, keep in mind to maintain quality. Keep all the basics of SEO major ranking factors which intact to increase traffic volume at your web platform.

Concentrating on features snippets
Without any doubt, in 2021, Google will be using featured snippets more, to tell about the gist of the searched content, to the users. These snippets are crisp, concise, and to-the-point, telling exactly what the user is searching for.

It is obvious that you have to focus on writing relevant lines in your content that could form a snippet that Google algorithms would love to pick up, and feature in SERPs. A striking attribute of a snippet is it appears above the Google search results. As a result, it has higher chances to pull more traffic to your website.
More improvement in predictive search
There would be a considerable improvement in predictive search, with further advancement of Google AI. You really don't have to put any extra effort to be considered by Google. The search engine algorithms would show the users the a list of contents that most likely fall under their interest, depending a some essential factors such as historic search queries, locations and profession of the user, etc.
Video will gain more importance
As you already know, a well-made, crisp video content has more power to pull in traffic; its relevance is only going to increase in 2021. You have to implement the right SEO strategies to create and include video content on your website. You need to optimize it, in order to attract visitors, and decrease the bounce rate of your website. You can't afford to cram the video description or title with keywords. Moreover, you should have an exclusive SEO services for video content in your YouTube channel, too.

Image optimization has a larger role now
There has been a drastic evolution in image search technology of Google. In 2021, people would buy more products than previous years with image search queries. It is natural to optimize the images at your web platform to appear in the top of the search results. You have to mark them properly and optimize them accurately.
Using high-quality and relevant images is the key. If there is a photo-series or product list, you need to label it accordingly. Moreover, you need to add images to the site map of your website, to make the platform friendlier to the crawlers.
Be stronger in SEO in 2021
Now you know about the frontline trends in 2021, which you have to focus on to improve the SEO of your web pages, and rank higher in SERPs. Start working on your SEO plan and implement pertinent solutions to make your content more valuable, searchable and relevant.