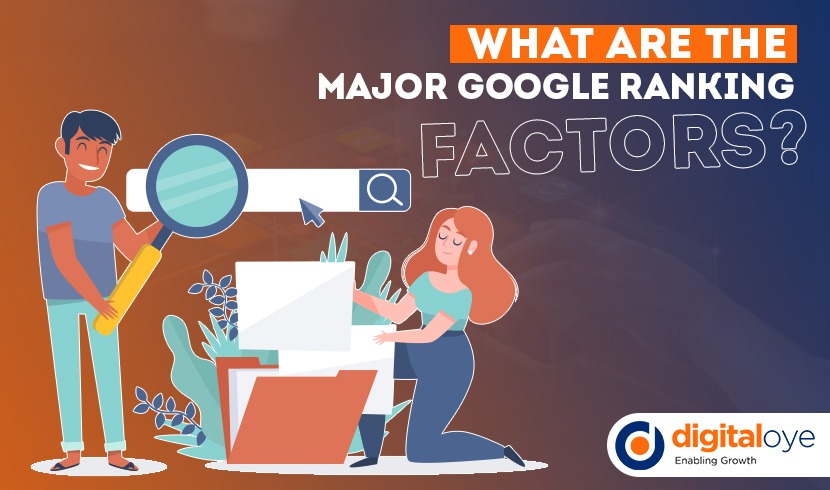 Tags : seo,search engine optimization,SEO,digital marketing,SEO agency India,Search engine optimization,Search Engine Optimization,seo company delhi,best seo services,seo noida
SEO is the backbone of every website today. Without it, your website will not be able to sustain. There is a lot of uncertainty when it comes to what works or what doesn't for your website to rank better in the search results. Because Google has not disclosed its algorithms, the SEO community is always guessing and looking for ranking factors. It is said that there are over two hundred ranking factors so far. Luckily, you do not have to worry about all the ranking factors.
You can quickly get your website optimized for all two hundred ranking factors by handing over this task to a professional SEO Agency in Delhi NCR.
Top 8 Google Ranking Factors
In this article, we will discuss the top 8 google ranking factors that you must be mindful of beating your competitors in the Google Search Engine Result Pages (SERPs).
Here's everything that we will be discussing today-
Backlinks

HTML Tags

Semantic Saturation

User Behaviour

Structured Data

Google My Business Listing

Mobile Optimization

Core Web Metrics
Let's begin!
1. Backlinks
Backlinks are one of the oldest Google ranking factors that can either increase or decrease your ranking position based on the page authority and relevance score of the websites you receive backlinks from. Even though Google is planning to eliminate backlinks as a ranking factor in the future, they still hold importance today. The only difference between the then and now backlink practice is that you have to be mega careful from where you build your backlinks. Unlike earlier, you can not form backlinks mindlessly on every website - whether it is relevant to your niche or not.
The page and domain authority, relevance score, the freshness of the content, and traffic are crucial backlink metrics.
2. HTML Tags
HTML tags are the ones which indicate Google of what parts of your website are the essential ones. The significant components of HTML tags include title and meta descriptions, heading tags, and more. The title and meta description tags help users see what your web page content is all about - best practice is to try incorporating your primary keywords in Meta Title and Description tags to improve relevancy.
Similarly, Heading Tags (H1-H6) structure your web page content into several sections - this gives your site content a clean look, increasing user readability and crawlers' ability to make sense of what your content is all about.
3. Semantic Saturation
Unlike earlier, you should strictly restrain yourself from stuffing your website content with too many keywords. It is essential to add only a decent amount of keywords and images to the text copy. Your ultimate goal should be to make your content make sense to the readers. Best practice would be to create a benchmark of the number of keywords to incorporate based on researching your competitors' top pages.
4. User Behaviour
The ultimate goal of every website is to make it appeal to the website visitors in a way that they convert into your paying customers. Living in the information age, the attention span of every user has reduced. This said you have only a few seconds to leave a lasting impression on your potential customers. In such a case, enhancing user behaviour comes in handy.
Even though there has been a long going debate on whether user behaviour metric affects the ranking of the page, it is crucial to monitor it. You can do this by analyzing metrics in Google Analytics like - click-through rate (CTR), bounce rate, session depth and duration.
5. Structured Data
Google offers thousands of tags for you to choose from based on your niche and the message you are trying to convey. Using these tags, you can tell Google crawlers a lot about your content. These tags of structured data can help you enhance your Google SERP presence with rich elements like your location, author names, ratings, product features, and so much more.
You can use Google's Structured Data Markup Helper and choose the type of markup to enhance your page.
6. Google My Business Listing
Especially if your local customers matter to you the most, claiming, optimizing, and maintaining your Google My Business listing can do wonders for your local SEO as well as branding. Claiming your Google My Business Listing can help you establish your business identity, skyrocketing your local search performance which starts with queries with "near me" as the prefix or suffix. Once you create your Google My Business Profile, you clear for Google Maps opening your business for nearby searches.
7. Mobile Optimization
As Google continues to keep user experience in the middle of its every update and changes, Google has begun to prioritize the mobile-first approach - all thanks to the significant smartphone penetration around the world! After so many years of predictions and wait, the mobile-first indexing is completely rolled out. This said September 2020 onwards, all websites without any exception would be judged based on their website's mobile version, instead of the desktop version. So if your website still lacks in mobile usability, you will fall far behind. In case you want your website to rank better in the search, instead of focusing on the desktop version, the mobile version should be your priority.
8. Core Web Vitals
Core Wen Vitals is the latest user experience metric that will soon become one of the significant Google ranking factors. This metric will analyze the first impression that a site visitor gets when visiting a webpage. In other words, Core Web Vitals will measure how fast your website loads, how quickly the user becomes to engage with your site, and how stable your site layout is.
CONCLUSION
It is crucial to keep regular tabs on forever changing Google algorithms. While some ranking factors are slowly losing its importance like keywords and backlinks, there are several other ranking factors like user experience and semantic saturation that are taking centre stage. So if your website is still following the decade-old SEO practices, you need to reevaluate your SEO strategy now, or you can take the guidance of a professional SEO Agency like DigitalOye.