Looking out for an advertising platform the none other than advertising platform like Facebook which currently has around more than 2.27 billion users. Out of which there are more than 1.5 billion users. If you are not doing your advertising on Facebook then you are committing a major blunder as you are losing billions of people at a time because Facebook is only one social media platform where you can promote your app, products, services, website, cause and events by creating a Facebook page which is quite simple. You can promote your business, concept or ideas in any way through your Facebook page by sharing on various groups and communities. By doing Facebook advertising you can reach many people organically and boost your organic reach.
Marketing on Facebook
Best Facebook marketing company in Delhi NCR, India to drive online sales and lead generation
Brand awareness company
App Installation & Promotion
Increase Local Sales
Increase Oraganic reach through Facebook groups sharing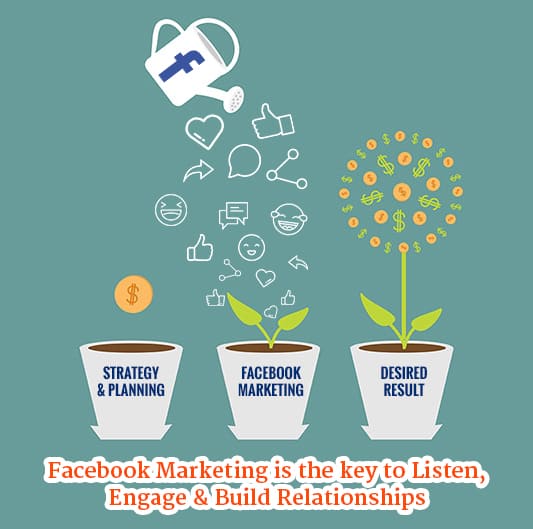 Our Services
We are the Top-Notch Facebook Marketing Company and believe in providing premier quality Facebook Marketing & Advertising Services in Delhi NCR, India.
Facebook Ads Management

We provide the best Facebook ad campaign management services to boost your businesses. Making it look more enhanced, creative and engaged. We try our best to bring more active audiences to your pages making it look more professional and unique.

Increase Page Likes

We provide the best reliable paid page like activities so as to get more likes and event responses from your targeted locations regarding your product/service as compared to other organic techniques.

User Engagement

Businesses do not succeed without user and audience engagement. We ensure that your businesses always widen horizon, scope and get more engagement from its customers so that your brand gets a perfect brand value in the market.

Brand Awareness

Digitaloye considers it's top most priority to create excellent brand awareness among its target audience when it comes to making a Facebook ad campaign successful.

App Installation / Engagement

Here at Digitaloye you will get the best opportunity to improve your brand awareness by encouraging your businesses followers to show ads that redirect to your app whether desktop or mobile to boost your app downloads/engagements.

Increase Conversion Rates

The main purpose of Facebook marketing is to open the doors for businessmen and entrepreneurs to boost their revenue for businesses with the help of high conversion rates.

Increase Local Traffic and Reach

Being regarded as the premier Facebook marketing agency we give your brand best assurance about its critical reputation by reaching the people effectively from your social media page.

Lead Generation

We make best out of the box strategies for lead generation for your targeted product/service with the best use of marketing automation methodologies.

Generate Quality Traffic

We as an premier Facebook marketing agency use this tactic effectively to redirect quality traffic to your landing page to achieve the desired targets for our clients.
Success
First and foremost concern regarding any Facebook marketing activity is that how much profitable it is. Though it's super easy to set up a new Facebook page and do branding of your products and services. However things are not that easy as it looks. There are a lot of thing that require attention for a perfect Facebook Marketing and the checklist includes.
regular Facebook post scheduling
post at correct time identify the time where your audience is more active
use of good creatives as creatives leaves a long lasting impact
keep your audience engaged by being creative use contests, reward people who win the contests, ask questions, create events and demonstrate about the product or the service use through videos which plays a key role in increasing your brand awareness
use Facebook carousel and video ads with correct call to actions
use custom audience as re-marketing tool to reach people to show ads to those people who have visited your website or specific web pages. As Re-marketing boost plays an important role in boosting your conversion rate
These are the regular practices that you can follow to build your brand on Facebook and drive valuable leads for a business
Why Use Our Facebook Marketing Service?
Facebook Advertisements is the best form of reaching the people and we are one of the best Facebook Marketing Agency here to guide you for the business growth through Facebook Advertising. So here are some best Facebook Advertising practices that we follow to ensure you that your business keeps on earning profits.
Reaching your brand out to most targeted customers
Exposing your ads to more than 1 billion people
Using different targeting methodologies like age, gender, interest and behavioral targeting to reach correct audience
More likes means more authority and brand recognition.
clever ad optimization techniques to boost ads performance
budget-friendly advertising
Facebook advertising services
As a renowned advertising agency we'll make best efforts to make Facebook Advertising effective to achieve your business goals.
create a Facebook ads with call to action facility
Facebook insights analysis
generate traffic from social media marketing
ensure that the ads are highly valuable for the business
driving quality leads through the ads facebook ad manager
diverting the user towards sign up form or newsletters
reach people who have visited the website previously re-marketing
Technique
Technique basically refers to how the advertisements will be set up. The first and foremost suggestion includes the actual goal of the Facebook ad campaign. Depending upon the goals and objectives the ads are accordingly flashed out to relevant people who are valuable to the business. We have skilled team of experts who will work on various creative ideas to allow people to get engaged with your business. We'll ensure that with our skilled team we will find out best possible ways to push your business to new heights.