In this digitally competing world, you cannot just rely on traditional marketing practices for advertising your products and services to your target audience. Today, there is no place better than social media platforms to advertise your offerings and get the attention of your target audience. Out of all the social media marketing, Facebook marketing services yield the maximum result. This is because Facebook has 2.01 billion monthly active users!
It is the best place to advertise your products, raise brand awareness, and engage with your customers. With Facebook marketing experience of 14 years, DigitalOye is one of the professional Facebook Advertising Agency that has handled 500+ social media marketing projects and delivered satisfactory results. At DigitalOye, our team of social media marketing experts has worked rigorously to ensure client satisfaction throughout making us the best FB advertising agency in Delhi India.
Marketing on Facebook
Informative and attractive Facebook Business Page for earning the audience's trust.
Classic Facebook Ads Management Services for increasing conversions.
Facebook campaign management services for raising brand awareness.
Facebook Marketplace for listing your products/services.
Target local audience for increasing storefront footfall.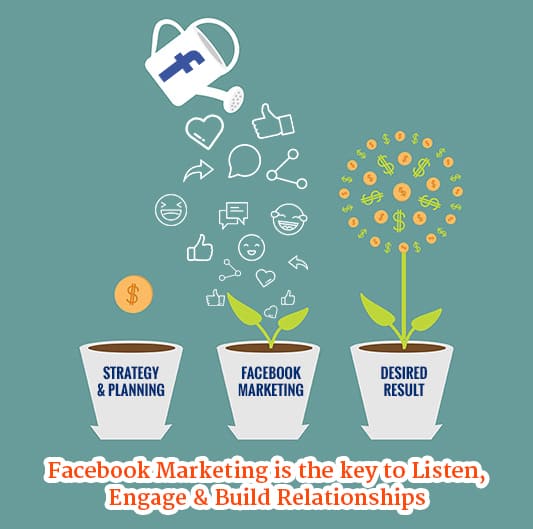 Our Services
The key to Facebook Marketing is to think from the audience's point of view. With this thought in mind, we try to offer the most effective advanced Facebook Advertising management services in India.
Facebook Ads Management

Because Facebook is a social media platform where the users spend time to relax, we make sure that we convey our client's advertising message to their audience without hampering their relax time. Therefore, our ads management services stand out from the rest.

Increase Page Likes

Page likes is the indicator of how your business is being perceived by the target audience. By providing relevant and informative content, we help our clients gain the trust of their audience that is indicated in an increase in the page likes.

User Engagement

No business can succeed today if they don't make an effort to communicate and interact with their target audience. We facilitate this user engagement to ensure that the clients' target audience becomes loyal to their brand.

Brand Awareness

Branding is the absolute need for every business today. In this cross-cutting competitive business environment, raising awareness around your brand can be difficult. At DigitalOye, our creativity will help you cross this hurdle.

App Installation / Engagement

By implementing Facebook advertisement strategies, we make sure to come up with engaging ads that redirect the user to your desktop or mobile app to improve your app's downloads and engagements.

Increase Conversion Rates

The main aim of marketing on Facebook is to reach more customers and increase sales. With the option of creating highly targeted advertisements, you can increase your conversion rates manifold.

Increase Local Traffic and Reach

While global presence is important, a business should also pay equal attention to the local audience. By creating customized ads, Facebook gives you many creative ways in which you can increase your reach and local traffic.

Traffic Diversion

By creating eye-catching posts and advertisements, we give the targeted audience a legitimate reason to click on your link and redirect to your website to take the desired call-to-action.

Monitor & Analysis

While Facebook provides many ways in which a business can advertise, we make sure to keep a regular check on which strategy is working and which strategy do we need to eliminate to yield the best outcomes for our clients.
Our Facebook Promotion Success
Every business who first thinks of advertising on Facebook wonders how profitable this platform actually is for advertising? Although it is super easy to create and set a new Facebook page, it is not a cakewalk to manage and yield the expected results. We always try to implement advanced Facebook FB Advertising techniques to get the desired results. Effective branding takes a lot of effort and time. There are a lot of things that needs to be considered for getting the expected results-
How frequent posting on Facebook is?
What time is the best time to make a post on Facebook?
What kind of posts and creatives get the most engagement?
What kind of Facebook advertisements resonates the most with the audience?
How should effective re-marketing be done on Facebook?
These are some of the considerations to keep in mind to convey the advertising message and achieve success without hampering the user's relaxing time on Facebook.
Why Us
At DigitalOye, we have a combined team of industry experts and young minds. This is because, while industry experts keep a check on Facebook analytics, it is the young minds who spend their maximum time on following social media trends. These young minds give a fresh perspective and come up with unique marketing ideas under the guidance and expertise of industry professionals. This way, we ensure that our clients can extract the maximum profit through our Facebook Advertising Service.
Bridging the gap between your business and your audience.
Giving your brand maximum Facebook exposure.
Making use of different targeting specifications like age, gender, behavior to target an audience that converts into loyal customers.
Making your Facebook page a hit among Facebook users, increasing authority and brand recognition.
Budget-friendly advertising practices.
Our Facebook Advertising Services Includes
DigitalOye is the reputed FB ad agency in Delhi India that has immense expertise in -
Creating Facebook ads with relevant Call To Action facility
Generating traffic from Facebook marketing
Creating highly valuable and relevant Facebook ads
Driving quality leads through the Facebook ad manager
Diverting the users to the website to take certain Call To Action
Re-marketing activities for reaching the users who have previously visited the website.
Our Fb Advertising Technique
To garner more success, it is important to first decide upon the business goals you are trying to achieve through Facebook Marketing. Depending upon these goals, the ads are crafted and displayed to the relevant audience.