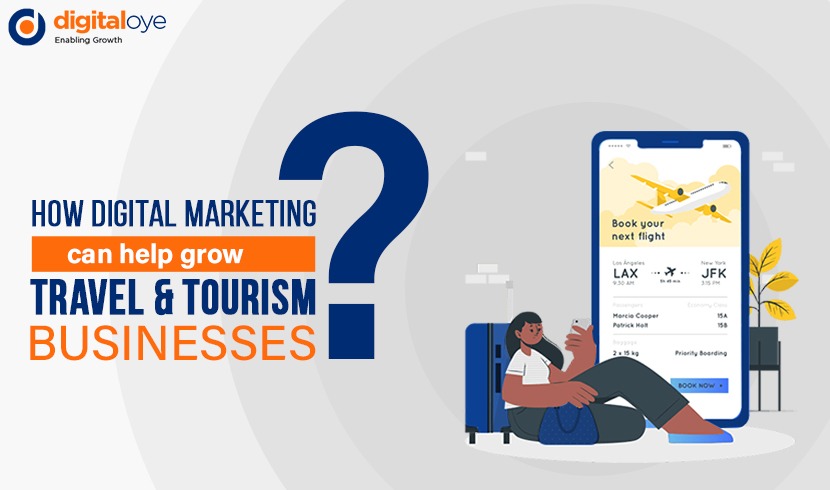 Tags : pay per click,#onlinemarketingfortourpackages,#onlinemarketing,digital marketing
The importance of marketing in the travel industry has never been more critical. With the emergence of social media and influencers, the globe has become more accessible and visible than it has ever been. Consumers are always on the lookout for new ideas, the next great vacation spots, and the finest travel prices. The travel sector has various potentials to grow by implementing effective digital marketing for travel industry methods. It's becoming increasingly difficult to stand out from the crowd of other travel companies and get visitors to the checkout, which is why you need to stay up to date on the current digital marketing best practices for the travel industry.
Here is a list of tips that you can put to use to stay ahead of the competition in the travel industry…
1. Market Study & Analysis
Travel and tourism firms may use marketing research and analysis to acquire and aggregate data about consumer satisfaction, wants, and requirements. It may also offer data on the number of visits, profiles, and attributes of customers. Any tourist location should begin by learning about the characteristics, preferences, attitudes, and views of visitors and the travel trade. It may also aid in the identification of new markets and the monitoring of your tourist sector's success.
2. Construct a modern website–Improve the speed of your website.
We all know how essential it is to show potential consumers the most stunning photographs of your portfolio's locations or hotels, but what if we told you that the enormous size of these images may harm your audience's experience? Our first piece of advice is to ensure sure your website's graphics are no larger than what is necessary for a proper desktop display.
When we talk about a site's loading speed, we're referring to the few seconds it takes for all of a page's content to be fully shown. You may be questioning why you should place such a high value on this element; after all, it just takes a few seconds. Learn that most visitors are willing to wait up to 3 seconds for a website to load before leaving it, according to recent research. Furthermore, about half of Internet users anticipate a site to load in under two seconds. As a result, a slow-loading website will raise the bounce rate, resulting in prospective consumers being lost to rivals.
3. PPC Ads
For travel marketers, PPC advertising is the most effective approach to contact and convert new target audiences. With income potential only increasing, it aids in the production of quick leads. Build your targeting approach around performance patterns; prior campaign performance may teach you a lot about which demographics are most likely to convert on your advertisements, as well as when and where they are most likely to convert. To increase campaign success, use this data to develop new targeted advertisements and landing sites.
4. Paid Social Media Advertising
Advertising through social media platforms is a great way for showing your potential customers what your hotel rooms look like, what facilities you have and how amazing the place looks. It helps you sell the experience more than just the service. Social media can also be used effectively to target the right demographics.
● They are highly visual
● Users can interact (comments & likes)
● They blend with organic posts
5. Organic SEO
Using the right SEO services, you can achieve a high ranking on search engines. For example, if you search for "Best Travel Package to Goa," it's natural to click on the first website that appears on the search engine result page or SERP. As a result, ensuring that your website ranks at the top of the SERP is a critical goal. However, the Google algorithms that determine which websites will rank on the SERP change regularly, necessitating ongoing website optimization. Furthermore, it is critical not to just plant keywords in your website to improve SEO; rather, include keywords into the text to improve the relevancy of your website content to consumers.
6. Blogging
Through blogs and other digital marketing tools, people may interact with millions of other people. In addition, every travel and tourist business currently has its blog to advertise its trips and content to the public. And analytics tools assist these businesses in calculating the number of individuals who read their material, among other things. This has increased the number of individuals signing up for various trips simply by reading the content on the blogs. One of the most significant social media influences on tourism has been this.
7. Focus on Reviews
Unanimously, travelers' evaluations assist them in learning about a vacation location, product, or service, evaluating alternatives, avoiding areas they would not enjoy, and generating ideas. Tourism internet reviews may provide information about your business to potential consumers before they ever walk through the door. They can also make it easier for people to locate your website online. Your site will rank higher in prominent search engines each time a reviewer uses an essential term.
8. Video Marketing
Tourism marketing fosters business growth through video marketing. Customers will spread the word about your establishment, whether it's a small bar or a hotel if they are pleased with your services. This will increase your client base and provide you with a competitive advantage. Video can help travel and tourism businesses create tales to develop trust, engage with their audience, and ultimately drive reservations by showcasing the experiences they have to offer. Customers may imagine themselves in the areas they wish to visit thanks to good visual marketing, and they can be motivated to go to new places and have new experiences.
9. PR Promotions
PR brings its valuable media connection which helps the Travel industry hugely. The media bring in credibility which helps in building a positive image through PR, creating awareness becomes easier. Whether it's the launch of new products, services or any promotions, organizations can easily promote themselves. PR is an essential promotional tool as it has multiple purposes, such as promoting an event or destination, building the reputation of a company as a "green" and responsible citizen, distracting the attention of the public from negative events.
10. Local SEO
Local SEO guarantees that you'll be able to rank better for keywords relating to your company and the locations you service. Local SEO drives targeted traffic to your website and improve your conversion rate since consumers are more inclined to connect with a business that is close to them. If done correctly, local SEO may deliver a large flood of the focused organic search traffic for firms in the travel and tourist industry. You'll need to set up a location for your business before you can rank in Google Local results.
11. Email Marketing
A successful travel email marketing plan will enable you to contact millions of prospective consumers who are eager to read the information you offer. It enables you to capture warm, qualified leads and convert them into customers and brand ambassadors. 87 percent of marketers believe that email is the most efficient way to generate leads. It enables your travel business to automatically give consumers information and updates on the date and time of their journey.
Last but not the least, develop your travel company's brand recognition by having a strong social media presence. Furthermore, online discussions allow marketers to discover current travel and tourism trends, analyse consumer behavior, improve customers' travel experiences, and expand the scope for continuous development.