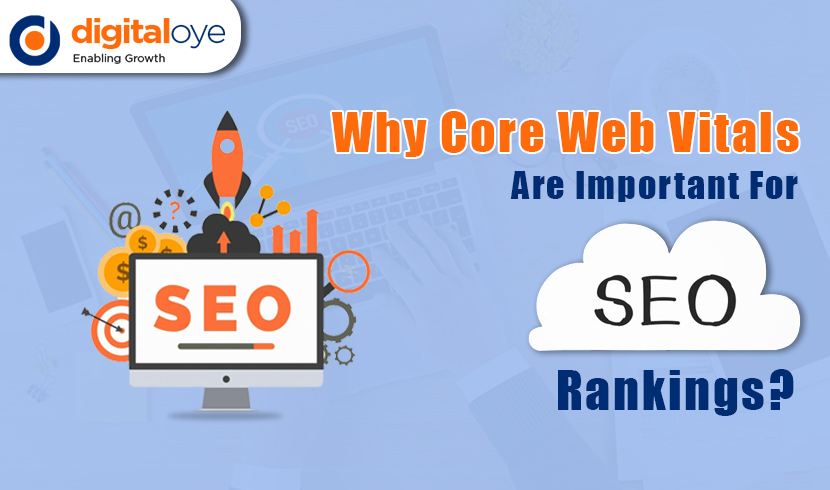 As a website owner, your straightforward objective is to maintain a high performance of your website. Irrespective of the fact that whether you own a blog on recipes or a web platform for an IT start-up, the user-experience on the site should be spotless.
A better performance of the website means the chances of appearing on the search results increase. You also ensure more profit margins. You are able to pull your target customers, and provide them an engaging experience on your navigation-friendly site. The brand value of your company / blog / service becomes stronger.
Update in 2021 by Google
Google has clearly stated, in the recent announcement, their prioritization of page experience, on the basis of Core Web Vitals. A website maintaining the norms, according to the details of the update, has more probability to rank higher in the search engine results.
Key factors for digital strategies to be effective
Site visitors and search engine are key factors that drive the effectiveness of digital strategies you implement. On one hand, the search engine like Google supports your site to get visitors, primarily from organic searches. On the other side, your sites needs to be worthy enough to convincingly qualify as a standard site and acquire a high rank in the Google search results.
Early announcement gives you more time
As a webmaster or site-owner, you now have ample time to build and integrate relevant strategies to improve the page experience of your site, as the announcement on Core Web Vitals has already been done by Google. Following the pertinent details of the update, you can set the digital strategies accordingly, in order to get better ranks on search engine results, attracting more visitors, and maintain a strong, sustainable growth.
Core Web Vitals – Simple definition
In order to understand the relevance of Core Web Vitals to improve your SEO rankings, it is important to understand what they are actually, and accordingly consult with a reliable New York SEO Company. These parameters are basically comprised of three distinct technical elements, which create a balanced and engaging user experience on any website. Continue for a closer read.
Largest Contentful Paint or LCP: The loading performance of your website page is termed as LCP. Fundamentally, how long does the page take to load, with all its content, determines the standard of user-experience. From a general perspective, when your page has more images or videos, it takes longer to load. This often increases the bounce rate. Google is taking a note on this. The benchmark as put forward by Google is 2.5 seconds or less. Hence, if the LCP of each of your website pages is 2.5 seconds (or lesser), then you are doing just fine.

First Input Delay or FID: This metric might seem a bit complex to understand, so it is better to approach it with a simple, interpretable example. Suppose one of your customers is filling a small web form, requesting more details of a product, and submitting it. After the individual submits it, your website takes some time to respond to the request. This specific response time is termed as FID. As a general overview, FID is a metric that tells about the responsiveness of the webpage. It is the time span, between the very first times a user interacts with your website, and when the browser responds to that. This is indeed a huge factor that determines the quality of user-experience.
Cumulative Layout Shift or CLS: The visual stability of a web page is measured by CLS. A nice example, in this case, too, would make the concept clearer for you. It is about the changing or sustaining content structure on a webpage, as you interact with it. You might have an experience of clicking on some interesting stuff on a website to know more about it, and something else appeared, and then, you went back to the original link to try doing the same thing, wasting your time. This is a low-grade on-page experience, which Google wants to discard. The recommended CLS score that Google is projecting is not specific, but as close to zero as possible. A low score such as this would improve the user-experience.
Preparing your website complying with Core Web Vitals
It is wise to know and apply some tips to make your website more robust in performance, integrating all the fundamentals of Core Web Vitals.

Optimizing the images – You need to optimize the main banner of your website, which is also termed as 'hero image'. The optimization would bring it under the recommended LCP measure. Compress it to a better-performing format. Moreover, optimize other images on your website, too.
Upgrading web hosting – When your web hosting service provider renders you a faster response time, the load speed of your website invariably improves, complying with the FID requirements as per the guidelines of Core Web Vitals.
Reserving space to load content – You must include the dimensional components of images / videos on your website and a trusted SEO Company can help you in this context. This results in optimal allocation of space by the browser. The CLS remains at minimum, and evidently helps your website to perform better.
Prioritizing content appearance – You need to be very particular about the content that first catches on the user's eyes, before the person scroll down the webpage. You have to prioritize such content on your home page and other web pages, and optimize them accordingly.
Content is always the King – Adding value to user-experience is still possible with high-quality content. You have to post and update the website with relevant content materials, which users would find worthy and navigable. This might outweigh page experience, reducing bounce rate and getting you higher page ranks.
Monitoring mobile-responsiveness – Simply put, you need to make your website mobile-friendly. As the number of mobile users is increasing at an accelerated rate, it is absolutely crucial to target your customers with more mobile-friendly websites.
Using Web Vitals tool-kit of Google – You need to optimize web pages with the optimization tools provided by Google, which help you to maintain the standards.
All the best for a more rocking website!
You have a fair bit of ammunition now to make your website performing robustly. All the best for 2021!