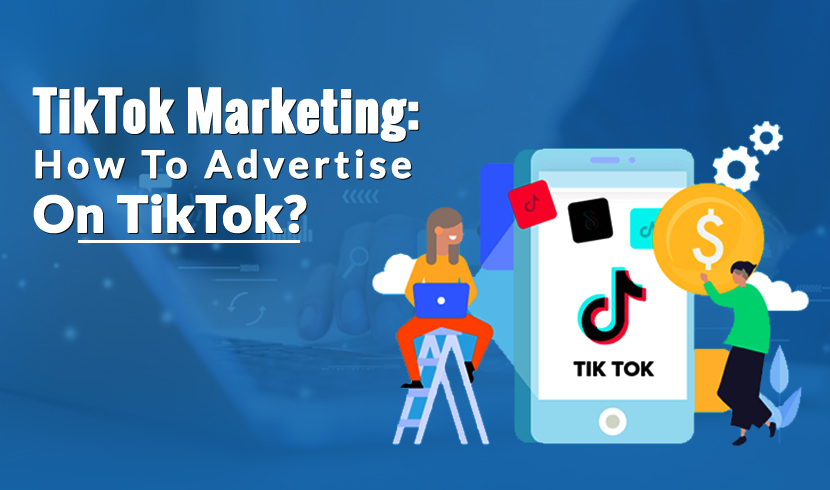 Tags : tiktok marketing,digital marketing,digitaloye,TikTok advertising,TikTok,Socialmediamarketing,Social media marketing
In recent years, TikTok has grown to become a favorite of online users. With over 500 million active users worldwide, advertisers can leverage this space to reach out to a broad audience. Unlike several other social media channels like Snapchat and Twitter, TikTok is less saturated with advertisements, giving advertisers a great opportunity.
Earlier known as Musical.ly, this visual app lets the user edit and post 15-second videos with several inbuilt features, music, and effects. Back in 2019, TikTok rolled out a beta version of its ads offering. Since then, many renowned brands like Nike, Apple Music, Grubhub, and more have used this platform to promote their products in a visually compelling and unique way.
With TikTok's unique ad creation and targeting features, brands can promote their products to one of the most lucrative pools of users. However, TikTok is not for every brand. Before you invest your time and efforts into getting TikTok advertising right, ask yourself these two questions -

1. Who is your target audience?
If you are primarily targeting younger people for your business, TikTok ads could be the right investment for you. According to the recent stats, 66% of the users are below 30, with 41% aged between 16-24. So, if you target much older generations, this platform is not a suitable investment for your business.
However, one has to note that even though a young audience predominates platforms like TikTok, social media is usually adopted by the younger audiences first, and then make way to older demographics. So, it might still be a better option to stay on the platform to be way ahead of your competition, even if the platform is not the right fit for your business right now.

2. What is your advertising budget?
Even though brands like Nike, Grubghub, and Disney have adopted TikTok Ads for driving maximum impressions, smaller businesses might still find it costly to advertise on this platform.
Because TikTok ads are new, they come a premium pricing. The costing starts at an average of $10 per CPM up to $300,000 in total budget for much bigger campaigns. Also, TikTok campaigns demand a minimum investment of $500, making it a problematic choice for businesses looking for affordable advertising options.
If you conclude that TikTok ads are worth your investment, here is how to go about it -

1. Start with a TikTok Ads Account
The first thing you need to do is visit the TikTok Ads home page and click on the "Create Ad" button. Once you click on the button, a pop-up form will appear requesting your details to set up your TikTok Ads Account. Once you submit your details, a TikTok representative will contact you and set up your TikTok Ads account.

2. Create a TikTok Ad Campaign
Now, go to the TikTok Ads dashboard and click the Campaign tab at the top. Next, click the Create button.Once you click on the Create button, choose your campaign objective i.e., the primary goal of your ad. Your goal, for example, can be traffic, app install, or conversions.
You will be required to cap your budget (Daily Budget or Total Budget) under Settings. The minimum capping for both Daily and Total Budget must be at least $500.

3. Set and Target Your Ad Placements
After creating a TikTok ad campaign, create an ad group of your campaign, and select your placements and targeting.
One advantage of advertising on TikTok is that it allows you to select the various platforms that belong to the TikTok family for running your ads on. These platforms include Vigo Video (India only), Helo, News Republic, BuzzVideo, and others.
You can also select the automatic placements option that allows TikTok to automatically place your ads where it will perform the best, thus taking the load off you.
After you select where you want to place your ads, follow the pop-up screens to enter all the necessary details to begin running your advertisement, including relevant URLs, categories, display names, images, and proper CTAs.
TikTok lets you enter up to 20 keywords to describe what your business/website/app is all about, which is then used by TikTok to match you with the right audience.
The Targeting section lets you narrow down your audience extremely based on several parameters like location, age, gender, interests, languages, devices, and more to bring the right audience to view your ads.
4. Control and monitor your TikTok Ad Spends
After you set your target audience and placements, you require to set a budget, schedule, and campaign goals for your TikTok ads.

i. Budget & Schedule
Here, set the budget for the ad group. TikTok gives you two types of budgets to choose from - a daily budget (the amount you are willing to spend every day) or a total budget (the total amount you are ready to pay for a particular schedule/duration). You need to pay a minimum of $20 for the daily budget and total budget at the ad group level.
Next, choose the schedule and duration for running your ads. You will also see a Dayparting option that allows you to specify the day or week on which you want to run your ad.
ii. The Pacing Option
TikTok allows you to determine the pace of your budget for setting the speed at which your budget will be spent. You can select from two pacing options - The Standard delivery that spaces out your budget evenly across the entire duration of the campaign, and The Accelerate option that spends the whole budget quickly during the scheduled time.

iii. Optimization Goal
Your optimization goal will show the key objectives or metrics that you are hoping to achieve with your TikTok Ads campaign. You can optimize your ad groups for Click, Conversion, or Impression, and your bidding will be optimized based on objectives you are trying to achieve.
For example, if you are looking to increase your Conversion, your ad will be optimized to serve the TikTok users who are very likely to convert for your offerings. You can track all the actions signifying conversions by creating conversion events by clicking the Library and selecting Conversions.
You can then decide if you want to set up conversion tracking (for example, app installs or landing page elements) via pixel.
To create an app install Conversion, fill in the details for your conversion campaign, enter the links to your app in App Store and Google Play, and finally select a tracking partner to get started with measuring conversions from your ad.
options for free background music.
TikTok offers the following types of advertisements -

i. Brand Takeovers
A brand takeover ad will appear then moment a user opens TikTok. The ad can be redirected to an external or internal link - either an external website or app or another video on the TikTok platform. Currently, only one advertiser can leverage this ad type every day.

ii. In-Feed Ads
In-Feed Ads are one of the most affordable types of ads that you can run for your brand. These are native ads placed either in the feed of the video queue or at the bottom of live TikTok videos, based on the type of offering. These ads can also be redirected to your website or mobile app. On average, an in-feed ad will cost nearly $10 per CPM.

iii. Hashtag Challenges
You can also collaborate with TikTok's marketing team to create sponsored hashtag challenges encouraging users to share content on TikTok on your brand's behalf. These hashtags problems generally last for a week.
vi. TikTok Ads Optimization
It is important to use high-resolution images because the ad will cover the entire screen of the user's device and be highly visible.
Make sure to keep only one call to action (CTA) to ensure clarity and make the most of your redirect link. For example, if you ask your viewers to download your app and use your coupon code on your website, it might end up confusing the viewers with what they are supposed to do.
For the text in ad copy, TikTok provides very little space for words and texts, limited to 80 English characters. So, if you are promoting more sophisticated offerings, incorporate words in your creatives using the Video Creation Kit.
Make sure to place your creatively appealing elements in the middle of the screen because all the descriptions appear at the bottom of the creative.
It is recommended to try and experiment with a wide range of targeting options and several creative elements before choosing the most successful combination of elements.

Conclusion
With more than 1 billion videos viewed every day, TikTok is undoubtedly catching the attention of many consumer-centric brands. With this comprehensive steps, you can take advantage of this emerging social networking platform. You can also hire the best digital marketing agency in India that provides the most professional TikTok marketing services in India to help you gain the maximum traction.