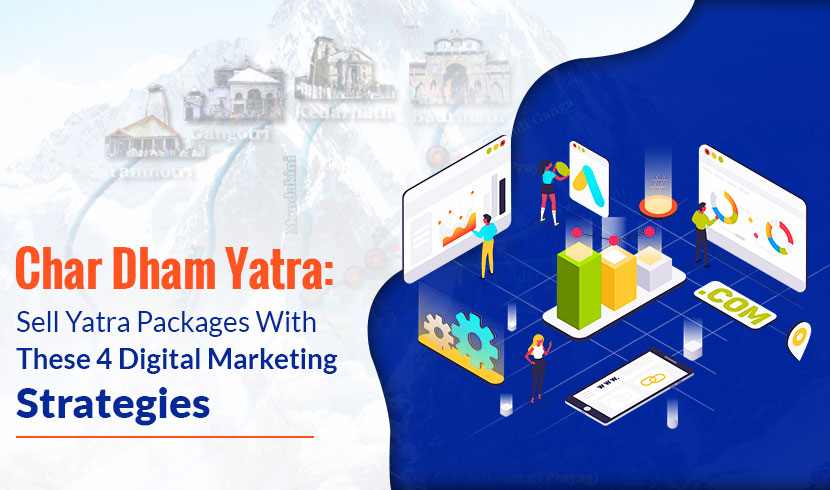 Tags : #chardham,#chaardhamyatra,##digitalmarketing,#selltourpackagesonline,#onlinemarketingfortourpackages,#onlinemarketing,#seo,#searchengineoptimization
As we near the end of the cozy winter season, the gates of the sacred Chardham Yatra will soon be open for the pilgrims. The Chardham Yatra will take the pilgrims to four holy sites in Uttrakhand - Badrinath, Kedarnath, Yamunotri and Gangotri. Every year, thousands of Hindu pilgrims embark on the Chardham Yatra seeking 'moksha'. Many pilgrims will soon start searching for Chardham Yatra packages to make bookings.
In such a scenario, how are you going to ensure that you get the maximum bookings for your Chardham Yatra Packages? The answer is through digital marketing efforts. You can either conduct these digital marketing activities in-house or hire the best digital marketing agency in Delhi India for handling it on your behalf.
In this article, we will discuss four digital marketing activities that will help you reach your online audience easily.
So let's get started!
1. Optimize your landing page
This should be the first step to focus on selling the packages to your audience.
A landing page is a web page that is specially created for a marketing campaign. It is designed with a single objective in mind - encouraging the user to take the desired call to action (or CTA).
This is where a user will be directed to after he clicks on your online advertisement or other online posts on the Char Dham yatra package.
Optimize your landing page with brief content on the itinerary, the inclusions and exclusions from the journey, the costs of the tour packages, medical requirements, and more. Add a relevant CTA button, for, e.g. enquire now, buy a package or customize a package, and more.
2. SEO best practices for making your packages more visible online
SEO stands for Search Engine Optimization. It is an organic method of search engine marketing by helping your product get more visibility on the search engine result pages (SERPs) by targeting specific keywords that the users will use for searching Chardham packages online.
Here are the benefits of applying SEO to your online tour packages -
It will help you get more leads from search engines: For example, when a user goes on Google and types "Char Dham yatra packages," the travel websites optimized for SEO will appear on the first page and will grab the most attention.
Cost-effective method: Search Engine Optimization is an organic method of getting more online visibility. It does not require any investments, unlike traditional modes of marketing and other paid form of online marketing.
Guaranteed business growth: Even though SEO takes a reasonable amount of time and effort, its results can be witnessed within the first month itself. When you hire a professional SEO agency in India who applies SEO best practices like on-page optimization of your website followed by off-page backlinking, you will begin to rank higher on the SERPs and therefore attract more leads.
3. Online advertisement campaigns for getting quick results
While there are several ad networks online for you to choose from, the two most prominent ad networks are Google AdWords and Facebook Advertising.
Google AdWords is the paid form of search engine marketing. With Google AdWords, you can place your ads strategically on the internet - on the search engine results pages, specific Google websites like Google Gmail, Youtube, Finance, and Blogger. You will also become visible on mobile websites and apps, and on other websites that your online audience visits.
You can also advertise your Google ads based on locations or languages. This means, if you want to promote your Char Dham Yatra Tour Packages, you can set your location to India and even target based on languages.
Facebook Advertising is another great way to reach your target audience. With the incoming of social media, Facebook has grown to become the top social media platform with over 2 Billion Facebook users in India. Do you see the potential here? If you advertise your Char Dham Yatra Packages on Facebook, you're more likely to grab the attention of your specific audience.
Just like Google AdWords, Facebook Advertising also offers several filters that you can apply to narrow down your target audience. Using tools like location, age, language, and gender, you can create Ad Sets for your tour packages.
4. Social media for creating a good brand rapport and initiate "word-of-mouth" marketing
Social media is the jack of all trades. From increasing engagements to improving brand awareness, social media does it all. Especially if you're a new entry in the highly fragmented market of the travel industry, social media will prove to be the best help for you.
Now, there are many popular social media channels - Facebook, Instagram, Twitter, Snapchat... and the list goes on and on.
Selecting a platform for you to market on should not be that difficult. Just answer the following questions -
Who is your target audience?
On which social platform is your audience more active?
What are your marketing objectives?
Well, you are clear on your marketing objective - to sell more tour packages!
Now, Char Dham Yatra Package will be the most appealing to religious mid-age groups. This being said, the one platform that you should primarily target has to be Facebook.
If you don't want to invest in Facebook marketing, as mentioned above, no worries! There are other organic ways in which you can market your tour package.
By creating informative content and touching points like why someone should choose your yatra package over others, making eye-catchy posts on your Facebook page, engaging with your potential audience by politely reaching them in through direct message, you can generate potential leads for your package.
Other social media platforms that you can target through indirect audience targeting are Instagram, Twitter, and even LinkedIn.
Let's understand this point with a brief example -
Suppose, a 23 year old son is looking for Char Dham Yatra package for sending his parents on a pilgrimage. Instead of Facebook, he is more active on more "millenial" social media platforms like Instagram and Twitter.
Now, if you actively market your tour package on these social media channels, you're very likely to catch the attention of the son.
FINAL WORDS:
Chardham Yatra has an essential place in Hindu culture, and thousands of Hindu pilgrims embark on this journey to the abode of Gods every year. Realizing the potential market, several travel startups and companies have already entered this sphere and are providing the best of travel packages. If you want to stand out from the rest and get the attention of your target audience towards what you have to offer, digital marketing is the best way possible.
By hiring the best digital marketing company in India, you can establish your presence on the Internet and effectively generate more quality leads who are interested in buying your Char Dham travel package.