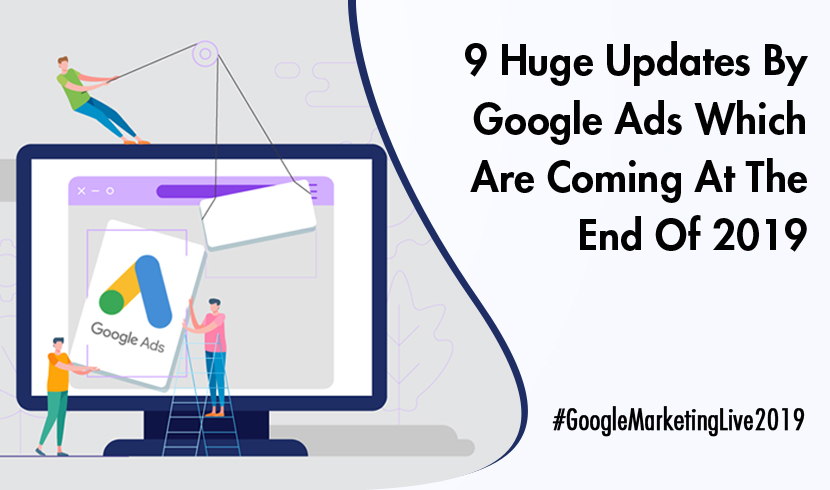 It's that time of the year where we need a huge discussion over a cup of coffee this is because Google has brought new heat with very much anticipated ads that were announced in the #GoogleMarktingLive2019 summit in San Francisco held on 14-15th May 2019. Google used this event to announce it's new products and services that will definitely roll out by the end of the year. Last year new inventions were responsive search ads, showcase shopping ads, smart campaigns, and youtube lead ads. So with the new ads definitely the businesses can reach out to their audiences in many smart ways and techniques. Whether you are an agency, online consumer, or an advertiser you need to wrap yourself with these changes if you want to take your businesses to new heights with Google ads. As an experienced PPC company in Delhi we'll ensure that these practices will be followed in future to boost clients conversions.
1) Introduction Of Feed Based Discovery Ads:
You might have heard about doomsday the news feed section won't be dead at all. In fact, after this, it will be on the rise. With the introduction of discovery ads, it will provide the customers with the open canvas to engage with your customers in the form of a swipeable carousel. Discovery ads will offer plenty of reaches you can serve them across youtube home feed, Gmail promotions and google discover feed. These ads also leverage machine learning they'll try to serve the best and according to your prospects.
Discovery Ads Specifications:
5 Headlines
5 Descriptions
One landscape image and logo
2) Introduction Of Gallery Ads At Search Advertising:
With this latest ad innovation at search advertising, the gallery ads will exist in a carousel format and will allow customers to swipe through the carousel. They'll be mostly at the top of the search results page. This means that advertisers now have a strong prospectives to not only show the ads while people search for their keywords or queries but at the same time they can induce the ads with more creative images to drive more clicks through the ads. Being a PPC company in it's important to use these innovations for better conversion rates. Thereby boosting the ROI for clients.
Gallery Ads Specifications:
4-8 Images
70 Character Tagline
3 Headlines For CTA Experimentation
3) Smarter Bidding Processes:
As the main focus of the entire agenda was machine learning this is one of the best and smart ways to implement machine learning. Smart bidding basically refers to google ads use machine learning to optimize your bids accordingly to gain more conversion value. While this feature has new key announcements. We'll include these all as a part of our best PPC services to deliver maximum results
Campaign conversion goals: if you have dedicated a single goal like store visits you can now optimize your bids accordingly within the campaign level for that goal.
Conversion action sets: if you want your bid to be optimized across various channels across various campaigns you can create a set of desired conversions.
Seasonal adjustments: if you have launched a sale and you want to boost your conversion at that time. Google ads will optimize your bids accordingly for that time and return to normal accordingly.
4) Youtube Bumper Ads:
As per the recent surveys, the 6-second ads leave more lasting impressions as compared to the 30-second ads. Only a few businesses have the resources to create bumper ads. Now google ads are introducing bumper machines that can turn any video shorter than 90 seconds. Plus this tool comes with advanced editing features that will give you more access in converting your final products.
5) Custom Affinity+Custom Intent=New Custom Audience:
This is the major feature that will roll out at the year-end that custom affinity and custom intent audiences are gonna be merged and can be used across various platforms like google, youtube, Gmail and discovery campaigns to optimize your ads accordingly to a better audience. With introduction of this we as a best PPC agency ensure that we'll reach maximum audience through this.
6) Introduction Of New Audience Expansion Tool:
Well with all the interesting updates Google wouldn't have dared to left the audience section. Based on the recent audience tool you can reach people who look and behave similarly to the people within that audience list. This is 100% similar to lookalike audience in Facebook remarketing. Through this, you will be able to reach more relevant audiences for better CTR's and conversion rates.
7) More Enhanced Experience With Shopping Ads:
With the prominent developments going on it's a very rare probability that Google will leave shopping campaigns also. Google ads has launched the pilot version of shoppable image search ads. In simple words, advertising vendors want to make it more simple for users who shop online? This feature is directly enabling the user to purchase the product directly from google interface without landing of the website. Still if one wants to proceed towards the website there is an option of going towards the website.
8) Showcase Ads In New Places:
This is the part of the google shopping campaign where you can add your store name, with extra images and descriptions also apart from the values used at the google merchant center. Google is planning to expand showcase shopping ads to youtube, google image results and google discovery so that ads reach out to more audiences.We have as top notch PPC agency have a stronghld experience in using the showcase ads to deliver maximum converisons on shopping campaigns.
9) Introduction To New Local Campaigns:
As per the surveys most of the customer's search for their nearby stores on the smartphones before going to the stores. With the emergence of this trend, it has become a huge opportunity to convert your prospective buyers. In other words, introduction of local campaigns will create a huge opportunity to reach your killer ads to nearby people searching for products and services. They'll be visible on search. display. google maps, and youtube to all advertisers. You only need to provide your store location, ad copy, images, budget, and bid. Google ads will optimize your ads accordingly to maximize traffic on your stores.
With the advancement in technology, year by year each and everything has been witnessing huge changes so with that Google ads are constantly inventing new techniques by which advertisers can maximize their ROI and conversion rate. So with these new Ad inventions, it will become more easy for customers to correlate with the ads thereby boosting the Ad relevance of the campaigns.