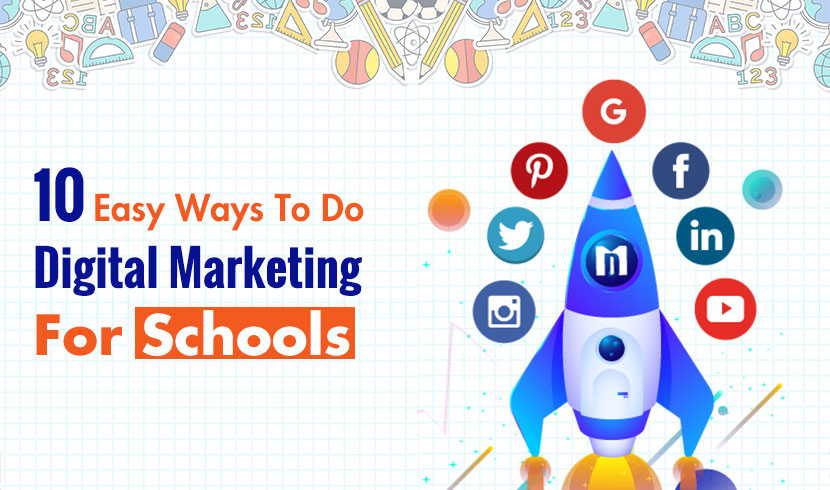 If we put it professionally, private schools are just businesses that are trying to attract the maximum enrollments over their competitors.
Students and their parents are no less than customers for them.
As in the case of many businesses facing upheaval caused by the new market entries, the education sector is not left behind.
The education sector heavily depends on the traditional methods of marketing that are through newspapers, billboards, and direct mails.
In such a scenario, you are very less likely to make an impact on your target customers.
Now, if you wish to stand out from your competitors and make an impact on your target market, you need to adopt modern marketing methods i.e., via online marketing.
Why should you do digital marketing for your school? Well, the answer sums up just four reasons -
You can target your audience
Measure the performance of your campaigns and make changes as and when required
They are cost-effective and cheaper
They are more sustainable than traditional media.
Now that we have covered the "why" aspect of considering digital marketing for your school let's get to the "how" part.
10 Ways For Marketing Your School Online
1. Leave a positive impression with a brilliant website:
Improving user experience can do wonders for your schools. Think of your website as your salesperson. The more it communicates your vision, mission, and personality, the more the parents will be left with a positive impression. Focus on providing the parents with a smooth user experience when they visit your website.
Here is a small checklist for your reference -
Make your website responsive: Parents are more likely to visit your website on their mobile device. Therefore, ensure that your website is not difficult to browse or navigate through. This is because the users will not stick for a long while trying to find what they are looking for. Instead, they will leave your site unsatisfied and switch to another website.
Work on your page speed: Know that the internet user is impatient. If you want the potential and existing parents to have a lasting positive impression of your offerings, make your site load fast. Test your website and optimize the loading time because nothing annoys a user more than a slow website.
Optimize your website navigation: If a parent is looking for a specific section like enrollment form, terms & policy, or department contacts, it should not take more than a minute to find it. Make your website easy to navigate, ensuring that they reach what they are looking for in minimum clicks and time.
Give your website a professional look: If your site is still stuck in the past with loads of stock images or spinning icons on the webpage, then your website is not lagging. Mainly because it is an educational website, you need to be more careful with how well you present it because it does not take much time for the potential parents to relate the kind of education with how your website looks like.
2. Improve your website's visibility on the search engines with SEO
SEO stands for Search Engine Optimization. It is a process with which you can get your website to rank on the first page of the search engine results.
Before coming to you with their queries, parents research and shortlist the schools they are willing to get their child enrolled in. A big part of their search is through the search engine. This is why having the right search engine presence is crucial for attracting more parents.
For example, let's say you have moved into a new neighborhood, and you are looking for a suitable school for your child. How will you search for it on Google? Research indicates that every year, parents use a keyword phrase 'Best School in.'
So, where does your school rank in the search engine when you search for the best school near you?
Do you appear on the first page? If not, then you have to follow the SEO best practices or hire a professional SEO agency as soon as possible to help you rank on the first page of the search results.
3. Make use of Google Adwords to get quick website traffic
If you're not yet ranking on the first page of the search results, but you are looking for immediate results, Google Adwords is your best shot. With this tool, you can advertise your offerings to the parents who are searching for the best schools at the very moment.
Before you opt for Google Adwords, be clear about what your online marketing objective is. It can be to get the parent's contact information to follow up with them later. Once you are clear about what your main goal is, consider these questions -
Who is your advertising target audience?
If you are targeting parents, what age groups are you targeting?
What is your daily ad budget?
How will you track your conversions?
Besides answering these questions, here are a few other tips that will help you with your Google Adwords campaign for advertising your school online -
i. Use targeted keywords while writing an ad copy. Make it compelling enough for parents to click on your ad.
ii. Create a landing page that matches what your advertisement is about.
iii. Understand your audience's behavior, in this case - the parents and deliver what they are expecting when they click on your ad. Make your calls-to-actions as clear as possible by ensuring little friction ie, don't add a lengthy questionnaire for the visitors to take.
iv. Regularly monitor your campaign performance. Determine what kind of ad groups, ads, and keywords are bringing you the most conversions and how much is the ROI. This way, you will soon find out the areas of improvement.
4. Leverage the power of Facebook
One of the most popular social media platforms - Facebook is a great place for brands to directly engage their target audience, build an online community, and drive more conversions. For schools, Facebook can become a mode of providing information to students and their families. Post-audience-friendly and engaging content like upload videos, run polls, post-event updates, and ask questions regularly to better your communications with your customers (parents).
The main goal is to build a community for students and parents. Apart from creating a Facebook page, you can also use Facebook advertising to convey your advertising message to students and parents.
You can use advance Facebook features like remarketing and custom audiences to promote to the right kind of audience.
5. Engage with parents and alumni on LinkedIn
LinkedIn is another popular social media platform that you can use to your benefit. Now, LinkedIn is a place for professionals to connect. Right? Well, even though it is true to an extent, LinkedIn sure has a place for schools like you.
A LinkedIn profile will be good for your search engine performance, and it will be a great way to connect with your ex-students and build a network, therefore.
If creating a school LinkedIn group helps your ex-students or alumni professionally, you will be perceived as a wholesome brand.
6. Start your school's email newsletter
Adopting an email newsletter is one of the less costly, promotional, and engaging tools. You can start with a basic approach by sending the newsletter weekly or monthly to the existing parents. This way, the parents will stay informed about the happenings in the school. It can lead to a chance of word-of-mouth marketing. And, we all know the power of word-of-mouth on our buying decisions. Don't we?
7. Start creating online videos
Be it online or offline; people will always prefer videos over images and texts. In recent years, the amount of video being consumed by online users is increasing every year.
Creating a professional, high-quality video can cost you up-front production and editing costs. However, when compared to the costs associated with the print advertisement (which is on a downfall), investing in a video is more effective and an affordable alternative.
You can start your own YouTube channel and upload the videos you produce there. Later, you can share the video on your other social media presence - Facebook, LinkedIn, and more.
You may ask how it will help you in your online marketing?
Well, let's say both parents couldn't make it to the Open Day at your school. While the mom gets experiences in your school and is convinced of the experience, the father only gets to see the heaps of brochures she brings along. Does the father get the same experience as the mom? No. But! What if you showed the father a short video on your school? A video is undoubtedly more useful and appealing than a bunch of brochures.
8. Work on your online reputation
Many traditional PR strategies will help you achieve online exposure to high authority and influential websites. But if you're an entry-level, you should be working on improving online reviews.
Online reviews are regarded as equivalent to offline recommendations. Therefore, by actively encouraging online reviews, you can influence a potential parent's decision making before even contacting you.
There are many places online where you would want to put your reviews or testimonials.
To begin with, make sure you have testimonials added to your website. Next, make it your priority to add online reviews to your Google My Business account.
Consistently receiving good reviews will be to hit two birds with one stone - it will help with your Google performance and will also help you influence your parents.
9. Integrate your online marketing strategy with your offline activities
It is essential to combine your online and offline strategies to promote your online activities.
For example, you can promote your website while advertising in the local newspaper by including your web address.
Here are some other suggestions -
All the outdoor advertising that you do - billboards to digital signage, all of them should include your web address.
Envelops, letters, or other documents going out to parents can have your social media details.
Any form of communication that goes to the parents, for example - emails or text messages, should have the option to subscribe to the e-newsletter.
10. Maintain a blog and regularly update it with engaging and valuable content
Blogging can help you achieve two interrelated objectives - providing information to potential parents and improve search engine performance.
Try to provide valuable information at each level of the customer's journey - when the parents are beginning to research, are ready to enroll their child, and for the ones who are already registered.
This can help you build a student's journalism prospects and can increase your promotional value in having students publish their articles.
Instead of going on producing blogs and articles, sit back and research the kind of information that the people are looking for. Try to fill this information gap by incorporating other modes of providing information, like - checklists, Slideshare presentations, third party blogs, and more.
FINAL WORDS:
In the coming years, digital marketing will be the only method of promoting educational services. If you are looking forward to running your school as a business, then you must spend time understanding who your target customers are and what are their needs, and how can you help them fulfill them. Hire the best digital marketing agency for schools, and promote your school all over the internet, acquire maximum enrollments, and ensure all-time growth!